Description
The INSTEON plug-in ON/OFF module is perfect for controlling non-dimming lighting such as fluorescent, CFL or LED as well as small fans, appliances, space heaters or other electrical non-dimming devices.
The On/Off module can be controlled by any INSTEON transmitter including any of the wireless Mini Remotes for simple remote control action, or by in-wall keypads, switches or INSTEON scense.
Use the INSTEON hub for basic scheduling and smartphone or web control, or add it to any other home automation controller that supports INSTEON devices including the ISY994 series for more advanced schedules and programming.
Dual Band technology with both powerline and RF wireless communication ensures rock-solid performance and also allows the module to act as a repeater to enhance INSTEON range for both powerline and RF-only INSTEON devices.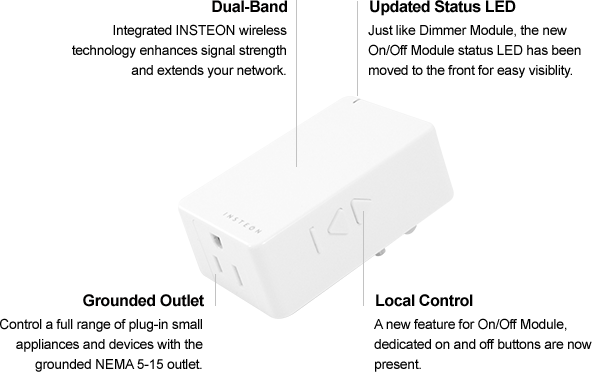 INSTEON 2635-222 On/Off Module Features

Plug-in module for indoor use only
Used for controlling non-dimming lights, non-dimming loads, fans, small appliances
Built-in local on/off switch
Dual Band powerline and RF wireless communication and repeating
Does NOT support X10 control
Rated 120V 15A (appliances) or 1800W lighting, 1 HP motor
Red/Green status LED
Can be a member of up to 400 INSTEON scenes
Can CONTROL one INSTEON scene
Rated 32-104° F 0-40° C
3 Prong grounded, NEMA 5-15
Power consumption <0.75 Watts
2-Year Manufacturer's Warranty
Payment & Security
We accept several payment types for your convenience using SSL encryption. We do not access or store your credit card information.